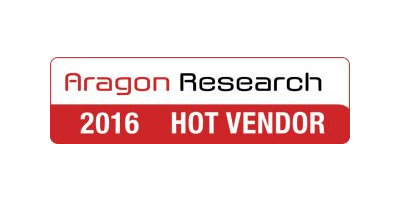 ---
FOR IMMEDIATE RELEASE:
Trisotech Named a 2016 Aragon Research Hot Vendor in Business Process Management Market
Trisotech recognized at Aragon Research Awards Ceremony for being innovative, intuitive, and easy to use
Montreal, Quebec, Canada, December 6, 2016 — Trisotech (http://www.trisotech.com), a global leader in digital enterprise transformation software solutions, announced today that it has been recognized in Aragon Research Inc.'s 2016 "Hot Vendors in Business Process Management Market" report and was formally recognized at the research firm's annual Hot Vendor and Innovation Awards Ceremony. The awards ceremony took place on December 1, 2016 at the Pullman Hotel in Redwood City, California, and brought together executives from international firms of all sizes to recognize those who are doing something truly new or different in their markets.
According to the Aragon Research report, "The secret sauce that Trisotech provides is a neutral data definition model (aka meta-model), called the 'Digital Enterprise Graph' that all of its tool facets share. Additionally, Trisotech has raised its level of service to help organizations discover and visualize their business in all of the contexts an organization might participate in now and in the future."1
George Barlow, Chief Sales Officer at Trisotech, said, "We are thrilled to be recognized as a Hot Vendor in the Business Process Management market and were honored to be formally congratulated amongst our peers at last Thursday night's Hot Vendor and Innovation Awards Ceremony."
Trisotech launched its award-winning product in late 2015. Combining concepts of simplicity, usability and collaboration in the cloud, the Trisotech Digital Enterprise Suite is a highly visual and interactive software suite that enables non-technical business people to innovate, transform and improve their business. It brings strategy, design and technology together providing organizations with insight for gaining competitive advantage. More than just modeling, the Digital Enterprise Suite provides tools to ensure organizations achieve their desired business outcomes. The Digital Enterprise Suite provides an intelligent fabric that empowers organizational analysis and decisions via visualization from business discovery through to transformation, innovation and improvement.
__________
1 Aragon Research does not endorse vendors, or their products or services that are referenced in its research publications, and does not advise users to select those vendors that are rated the highest. Aragon Research publications consist of the opinions of Aragon Research and Advisory Services organization and should not be construed as statements of fact. Aragon Research provides its research publications and the information contained in them "AS IS," without warranty of any kind.
Each year, Aragon Research selects Hot Vendors across multiple markets that are doing something truly new or different. They may have new technology that expands capabilities, a new strategy that opens up markets, or just a new way of doing business that makes them worth evaluating.
About Trisotech
Trisotech is a global leader in digital enterprise transformation solutions, offering innovative and easy-to-use software tools that allow customers to visualize, innovate, transform and improve their digital enterprise processes and business decisions. Trisotech customers use The Digital Enterprise Suite to provide new and revolutionary ways for their knowledge workers to collaborate and succeed in an increasingly global, connected and competitive world. Trisotech products are providing digital transformation help to communications, agriculture, manufacturing, financial, healthcare, insurance, energy, distribution, government, and many other types of organizations.
Trisotech is a privately held company.
Website: http://www.trisotech.com
###
All registered trademarks are the property of their respective owners.
See other awards earned by Trisotech for its Digital Enterprise Suite